01 novembre 2018
Les Etats-Unis au Sial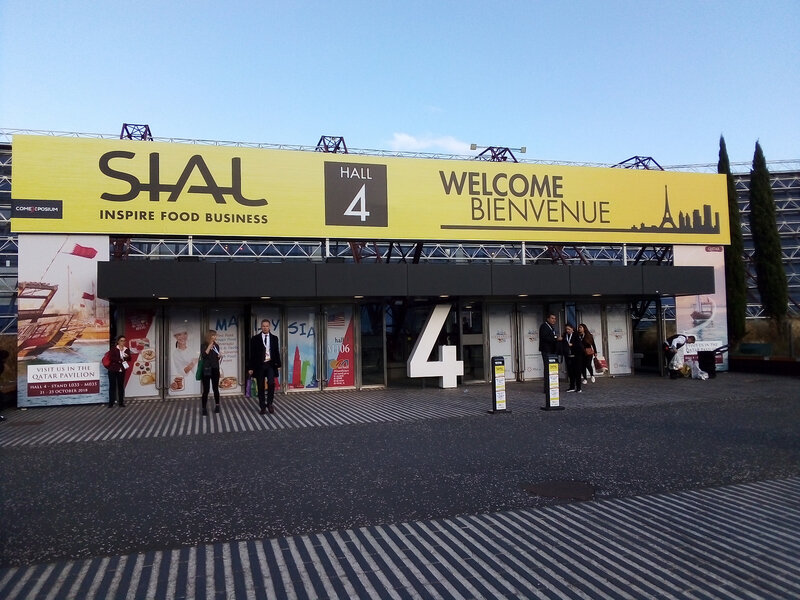 Tout ce qui compte comme fleuron des entreprises innovantes, dynamiques en provenance de chez l'oncle Sam sont présents au Sial potur présenter les meilleurs mets des states qui satisfont les plus délicats mets.
Ce n'est pas moins de 140 exposants qui ont présentés la qualité et l'innovation des produits alimentaires et offrant une grande variété de produits durables, régionaux et ethniques.
A contrario des burgers et autres fritures saturées de calories et de lipides, la tendance est plus a la recherche des produits organics, naturels ou qui rappelle Dame nature.
Au parc des expositions de Villepinte, les stands USA dans le Hall 4 proposaient nombres de produits. Notre coup de cœur hors Floride est allé pour NicholsFarms de Hanford de Californie avec ses pistaches
Notre visite s'est orienté principalement sur les stands en provenance de Floride.
Nous avons rencontrés Carter Pecan en provenance de Panama city Beach, exportateur d'excellente noix de pecan Cheney Brothers de Riviera Beach de Floride. Le stand de Natalie's Orchid Island de Fort Pierce proposait des jus de fruits limonades et thé glacés de qualité.
Nous avons appréciés les glaces Bubbies de Hawaï, légère compacte et douce, des excellents ice cream a partir d'ingrédients naturels. Le secret de recette est familial mais ses produits Mochi prononcés moh-chee sont des Best sellers du côté de Honolulu et des USA. Son succès tient à la qualité du produit et aux exigences diététiques actuelles.
À ce sujet, plus de 9500 entreprises sont répertoriés sur 50 états d'après la très sérieuse Organic Trade Association. Démontrant la volonté des entreprises américaines de promouvoir des produits premium pour tous. Bon appétit !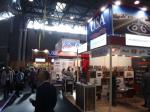 United States at Sial
All that counts as the flagship of innovative, dynamic companies from Uncle Sam are present at Sial to present the best dishes of the states that satisfy the most delicate dishes.
No less than 140 exhibitors showcased quality and innovation in food products and offer a wide variety of sustainable, regional and ethnic products.
In contrast to burgers and other frying saturated with calories and lipids, the trend is more in search of organic products, natural or reminiscent of Mother Nature.
At the Villepinte Exhibition Center, the US stands in Hall 4 offered numbers of products. Our crush off Florida went for NicholsFarms from Hanford California with his pistachios
Our visit focused mainly on stands from Florida.
We met Carter Pecan from Panama City Beach, an exporter of excellent Cheney Brothers pecan nuts from Riviera Beach Florida. Fort Pierce's Natalie's Orchid Island booth featured quality lemonade and iced tea juices.
We enjoyed Hawaii's Bubbies ice cream, a light, compact and sweet, excellent ice cream made from natural ingredients. The secret recipe is family but its Mochi pronounced moh-chee products are Best sellers on the side of Honolulu and USA. Its success is due to the quality of the product and the current dietary requirements.
In this regard, more than 9500 companies are listed in 50 states according to the very serious Organic Trade Association. Demonstrating the desire of US companies to promote premium products for all. Enjoy your meal !
Estados Unidos en Sial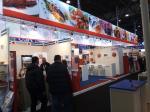 Todo lo que cuenta como el buque insignia de las compañías innovadoras y dinámicas del Tío Sam está presente en Sial para presentar los mejores platos de los estados que satisfacen los platos más delicados.
No menos de 140 expositores mostraron calidad e innovación en productos alimenticios y ofrecen una amplia variedad de productos sostenibles, regionales y étnicos.
En contraste con las hamburguesas y otras frituras saturadas de calorías y lípidos, la tendencia es más en la búsqueda de productos orgánicos, naturales o que recuerdan a la madre naturaleza.
En el Centro de Exposiciones de Villepinte, los puestos de los Estados Unidos en el pabellón 4 ofrecieron varios productos. Nuestro enamoramiento de Florida fue para NicholsFarms de Hanford California con sus pistachos
Nuestra visita se centró principalmente en stands de Florida.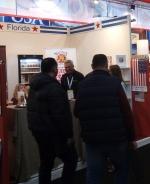 Conocimos a Carter Pecan de Panama City Beach, un exportador de excelentes nueces pacanas de Cheney Brothers de Riviera Beach Florida. El stand de Natalie Orchid Island en Fort Pierce contó con una calidad de limonada y jugos de té helado.
Disfrutamos del helado Bubbies de Hawai, un ligero, compacto y dulce, excelente helado hecho con ingredientes naturales. La receta secreta es familiar, pero sus productos moh-chee pronunciados en Mochi son los más vendidos del lado de Honolulu y EE. UU. Su éxito se debe a la calidad del producto y los requisitos dietéticos actuales.
En este sentido, más de 9500 compañías están listadas en 50 estados según la muy seria Asociación de Comercio Orgánico. Demostrar el deseo de las empresas estadounidenses de promover productos premium para todos. Buen provecho !
02 octobre 2018
Les adolescents en Floride
Du côté de la Floride, quand on est adolescent, nombre d'universités et de lycées proposent outre le cursus scolaire américain des cursus sportifs dans un état baigné par le soleil.
L'état propose également des lieux de loisirs, comme les plages, mais aussi les parcs d'attractions de Disney, mais aussi nautique, espace...
Si la Floride dispose de nombreuses résidences seniors, les jeunes floridiens disposent dans chaque conté d'investissement sportifs et de lunapark.
Le monde de la musique également propose des rendez vous de classe mondiale comme l'Ultra Miami rassemblement incontournable du monde de la techno des jeunes du monde entier.
Il fait bon vivre jeune en Floride.
Teenagers in Florida
On the Florida side, when you're a teenager, many universities and high schools offer sports courses in a sun-drenched state in addition to the American school curriculum.
The state also offers recreational places, such as beaches, but also amusement parks Disney, but also nautical, space ...
If Florida has many senior residences, young Floridians have in each county sports investment and lunapark.
The world of music also offers world-class appointments such as the ultra-Miami's unmissable gathering of the world of techno youth from around the world.
It's good to live young in Florida.
Adolescentes en Florida
En el lado de Florida, cuando eres un adolescente, muchas universidades y escuelas secundarias ofrecen cursos deportivos en un estado bañado por el sol, además del plan de estudios de la escuela estadounidense.
El estado también ofrece lugares recreativos, como playas, pero también parques de atracciones Disney, sino también náutica, espacio ...
Si Florida tiene muchas residencias para ancianos, los jóvenes floridanos tienen en cada condado inversiones deportivas y lunapark.
El mundo de la música también ofrece citas de talla mundial, como la reunión ineludible del ultramortem de Miami del mundo de la juventud techno de todo el mundo.
Es bueno vivir joven en Florida.
21 septembre 2018
Like, subscribe!
Our success is your do not hesitate to likez, vote and subscribe to the newsletter.
For individuals it is an information tool summary of the article that has just been published. It's a way to keep up with news of the site daily.
For companies, institutions is a precise tool for visibility.
targeted event monitoring. Offering international visibility
From economy to culture; all subjects are treated except military, religious and political issues.
All your data provided above is subject to complete confidentiality and can not be used for any other purpose for which we have been entrusted.
You can nevertheless at any time unsubscribe from the Newsletter; your details will be immediately removed from our mailing database and you will not receive any more mail from us.
You are totally free to register. For any questions contact the author.

Like, abonnez vous!
Notre réussite est la votre n'hésitez pas à likez, votez et à vous abonner à la newsletter.
Pour les particuliers c'est un outil d'information résumé de l'article qui vient d'être publié. C'est un moyen de se tenir quotidiennement des nouvelles du site.
Pour les entreprises, les institutions c'est un outil précis de visibilité.
une veille événementiel ciblé. Offrant une visibilité internationale
De l'économie en passant par la culture ; tout les sujets sont traités hormis les questions militaires, religieuses et politiques.
Toutes vos données fournies ci-dessus sont soumises à une confidentialité complète et ne sauraient servir à un autre usage pour lesquelles elles nous ont été confiées.
Vous pouvez néanmoins à tout moment vous désinscrire de la Newsletter; vos coordonnées seront immédiatement supprimées de notre base d'envoi et vous ne recevrez plus de mail de notre part.
Vous êtes totalement libre de vous inscrire. Pour toutes questions contactez l'auteur.
Me gusta, suscríbete!
Nuestro éxito es su no dude en agradecer, votar y suscribirse al boletín.
Para las personas, es un resumen de la herramienta de información del artículo que acaba de publicarse. Es una forma de mantenerse al día con las noticias del sitio a diario.
Para las empresas, las instituciones son una herramienta precisa para la visibilidad.
monitoreo de eventos específicos. Ofreciendo visibilidad internacional
De la economía a la cultura; todos los temas son tratados excepto cuestiones militares, religiosas y políticas.
Todos sus datos proporcionados anteriormente están sujetos a total confidencialidad y no pueden ser utilizados para ningún otro fin para el que se nos haya confiado.
Sin embargo, puede darse de baja en cualquier momento del Boletín; sus datos serán eliminados inmediatamente de nuestra base de datos de correo y no recibirá más correos de nosotros.
Usted es totalmente libre de registrarse. Para cualquier pregunta contacte al autor.
Troisième Festival du Film Horizon
Le troisième festival annuel du film Third Horizon (THFF) fait son retour à Miami du 27 au 30 septembre 2018
Au programme, des films, documentaire, fiction. A travers ces réalisations indépendantes apporte un ton subversif dans le politicement correcte.
C'est une programation qui veut déranger sans choquer mais qui veut volontairement nous surprendre comme l'auteur haïtien Edwidge Danticat, icône de cette création résolument moderne et en provenance des Caraïbes toute proche.
Un week-end riche en surprise et emprunt de liberté pour témoigner, dialoguer, communiquer avec le grand voisin.
C'est un événement non seulement pour la diaspora des Caraïbes fière de sa culture et de ses traditions, mais aussi pour toute la communauté intellectuelle américaine riche du multicultarisme.
Third Horizon Film Festival
Third Annual Third Horizon Film Festival (THFF) Returns to Miami September 27-30, 2018
On the program, films, documentary, fiction. Through these independent achievements brings a subversive tone in the correct politicement.
It is a program that wants to disturb without shock but wants to deliberately surprise us as the Haitian author Edwidge Danticat, icon of this creation resolutely modern and from the Caribbean nearby.
A week-end rich in surprise and borrowed of freedom to testify, to communicate, to communicate with the big neighbor.
It is an event not only for the Caribbean diaspora proud of its culture and traditions, but also for the entire American intellectual community rich in multiculturalism.
Third Horizon Film Festival
Tercer Festival Anual de Cine Third Horizon (THFF) regresa a Miami del 27 al 30 de septiembre de 2018
En el programa, películas, documentales, ficción. A través de estos logros independientes trae un tono subversivo en la politice correcta.
Es un programa que quiere perturbar sin sobresaltos pero que quiere sorprendernos deliberadamente como el autor haitiano Edwidge Danticat, ícono de esta creación resueltamente moderna y del Caribe cercano.
Un fin de semana rico en sorpresa y prestado de libertad para testificar, comunicarse, comunicarse con el gran vecino.
Es un evento no solo para la diáspora caribeña orgullosa de su cultura y tradiciones, sino también para toda la comunidad intelectual estadounidense rica en multiculturalidad.
C'est avec une grande douleur que nous vous informons du décès d'une personne chère à notre cœur et qui nous a soutenue des le debut de la Voie de Miami elle fut une des premières adhérentes et une des premières à visiter le site il y'a 18 ans de ce là.
Madame Noury s'est éteinte dans son sommeil à Monaco, et chacun de nous mesure l'importance de sa disparition et le vide désormais dans nos cœurs
À notre mère qui nous a communiqué le goût de l'écriture, les voyages et la rencontre avec les autres De sa plume elle a inspiré artiste et fut la collaboratrice de Georges Decaunes à la télévision quand elle s'appeller l'ortf. Nous lui témoignons toute notre affection et nous lui dedions cet article au nom de l'exercice de mémoire.
It is with great pain that we inform you of the death of a person dear to our heart and who supported us from the beginning of the Way of Miami she was one of the first members and one of the first to visit the site there. is 18 years old from there.
Madame Noury has died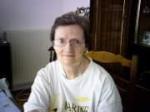 in her sleep in Monaco, and each of us is aware of the importance of her disappearance and the void now in our hearts
To our mother who communicated to us the taste of the writing, the travels and the meeting with the others From her pen she inspired artist and was the collaborator of Georges Decaunes on television when she is called the ortf. We show him all our affection and we dedicate this article to him in the name of the memory exercise.
Es con gran dolor que le informamos de la muerte de una persona querida por nuestro corazón y que nos apoyó desde el comienzo del Camino de Miami, fue uno de los primeros miembros y uno de los primeros en visitar el sitio allí. tiene 18 años desde allí.
Madame Noury murió mientras dormía en Mónaco, y cada uno de nosotros es consciente de la importancia de su desaparición y el vacío que ahora hay en nuestros corazones.
A nuestra madre que nos comunicó el sabor de la escritura, los viajes y el encuentro con los demás. Desde su pluma, inspiró al artista y fue colaboradora de Georges Decaunes en la televisión cuando se la llama la ortf. Le mostramos todo nuestro afecto y le dedicamos este artículo en nombre del ejercicio de memoria
19 septembre 2018
Palm Beach : une course féminine à eut lieu le 12 mai.
Le 12 mai, plus de 800 coureurs se sont rassemblés pour le départ de la 8ème course sur route exclusivement féminine 5Km / 10Km proposée par le Good Samaritan Medical Center. Et avec la participation de la chambre de commerce de Palm Beach
Le but est de par le lien transgenerationnel cultivé un exemple probant de solidarité en femmes. La Voie de Miami à souhaitée en faire écho s'associant de par cet article au soutien des initiatives de nos dames.
Des générations de femmes ont courues et marchées ensemble dans cet événement unique qui s'est comme chaque édition le mois de la fête des mères au parc Bryant, à Lake Worth.
Félicitations à tous nos gagnants de course et un cri spécial à nos gagnants du concours de costumes de sirène!
Une partie des bénéfices recueillis lors de la course est reversée aux Roadrunners de Palm Beach pour leur fonds de bourses d'études.
Cet argent servira à payer les frais de scolarité pour les jeunes filles qui fréquentent un camp de vacances d'été. Un vrai symbole de fraternité.
Palm Beach: A women's race was held on May 12th.
On May 12, more than 800 runners gathered for the start of the 8th course on the exclusively female 5Km / 10Km road tested by the right Samaritan Medical Center. And with the participation of the Palm Beach Chamber of Commerce
Maize is by the transgenerational link cultivated an exorit of solidarity in women. The Miami Way to echo this article to support the initiatives of our ladies.
Generations of women have run and walked together in this unique event, which has unfolded like every Mother's Day at Bryant Park in Lake Worth.
Congratulations to all our class winners and a special to our winners of the Mermaid Costume Contest!
Some of the profits raised during the race are reversed at the Palm Beach Roadrunners for their study funds.
This money will be used to pay school fees for girls attending a summer camp. A true symbol of fraternity.
Palm Beach: se realizó una carrera femenina el 12 de mayo.
El 12 de mayo, más de 800 corredores se reunieron para el inicio del octavo curso en la carretera exclusivamente femenina de 5 km / 10 km probada por el centro médico Samaritan Medical Center. Y con la participación de la Cámara de Comercio de Palm Beach
El maíz es por el vínculo transgeneracional cultivado un exorit de solidaridad en las mujeres. The Miami Way hace eco de este artículo para apoyar las iniciativas de nuestras damas.
Generaciones de mujeres han corrido y caminado juntas en este evento único, que se ha desarrollado como cada Día de la Madre en Bryant Park en Lake Worth.
¡Felicitaciones a todos nuestros ganadores de clase y un especial para nuestros ganadores del concurso de disfraces de sirena!
Algunas de las ganancias obtenidas durante la carrera se invierten en Palm Beach Roadrunners para sus fondos de estudio.
Este dinero se utilizará para pagar las tasas escolares para las niñas que asisten a un campamento de verano. Un verdadero símbolo de fraternidad.
26 avril 2018
Cap sur le Miami du 21 siècle.
Et si l'on arrêtait de considerer Miami, comme un lieu de farniente et de plaisirs aquatiques. Non regardons Miami comme une métropole qui a su évoluer et vivre avec son temps en se connectant avec son avenir en un lieu géographique stratégique de premier rang .
La ville des deux flics embrasse le 21e siècle à la maniére de Ghetta, on est bien loin du monde de scarface devenant ou confirmant cette inclination pour l'essor économique du pays n'oubliant pas son histoire et pour le combat environnemental. Et accueillante pour les matière grises du monde entier et donc des frenchy. Miami n'en n'est plus pour la décantation des hypothèses, mais déjà à l'application de nouvelles applications innovantes. Le rendez vous est pris.

Cape on the Miami of the 21st century.
And if we stopped to consider Miami, as a place of idleness and aquatic pleasures. Let's not look at Miami as a metropolis that has evolved and lived with its time by connecting with its future in a strategic location of first rank.
The city of the two cops embraces the 21st century in the manner of Ghetta, one is far from the world of scarface becoming or confirming this inclination for the economic boom of the country not forgetting its history and for the environmental fight. And welcoming for the gray matter of the whole world and thus frenchy. Miami is no longer for the decantation of the hypotheses, but already for the application of new innovative applications. The appointment is made.
Cabo en el Miami del siglo XXI.
Y si nos detuviéramos para considerar Miami, como un lugar de ocio y placeres acuáticos. No miremos a Miami como una metrópoli que ha evolucionado y vivido con su tiempo conectándose con su futuro en una ubicación estratégica de primer rango.
La ciudad de los dos policías abarca el siglo XXI a la manera de Ghetta, se encuentra lejos del mundo de la escarpadura convirtiéndose o confirmando esta inclinación por el boom económico del país sin olvidar su historia y por la lucha ambientalista. Y acogedor para la materia gris del mundo entero y por lo tanto francés. Miami ya no es para la decantación de las hipótesis, sino para la aplicación de nuevas aplicaciones innovadoras. La cita esta hecha.
17 avril 2018