C'est avec une grande douleur que nous vous informons du décès d'une personne chère à notre cœur et qui nous a soutenue des le debut de la Voie de Miami elle fut une des premières adhérentes et une des premières à visiter le site il y'a 18 ans de ce là.
Madame Noury s'est éteinte dans son sommeil à Monaco, et chacun de nous mesure l'importance de sa disparition et le vide désormais dans nos cœurs
À notre mère qui nous a communiqué le goût de l'écriture, les voyages et la rencontre avec les autres De sa plume elle a inspiré artiste et fut la collaboratrice de Georges Decaunes à la télévision quand elle s'appeller l'ortf. Nous lui témoignons toute notre affection et nous lui dedions cet article au nom de l'exercice de mémoire.
It is with great pain that we inform you of the death of a person dear to our heart and who supported us from the beginning of the Way of Miami she was one of the first members and one of the first to visit the site there. is 18 years old from there.
Madame Noury has died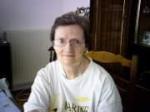 in her sleep in Monaco, and each of us is aware of the importance of her disappearance and the void now in our hearts
To our mother who communicated to us the taste of the writing, the travels and the meeting with the others From her pen she inspired artist and was the collaborator of Georges Decaunes on television when she is called the ortf. We show him all our affection and we dedicate this article to him in the name of the memory exercise.
Es con gran dolor que le informamos de la muerte de una persona querida por nuestro corazón y que nos apoyó desde el comienzo del Camino de Miami, fue uno de los primeros miembros y uno de los primeros en visitar el sitio allí. tiene 18 años desde allí.
Madame Noury murió mientras dormía en Mónaco, y cada uno de nosotros es consciente de la importancia de su desaparición y el vacío que ahora hay en nuestros corazones.
A nuestra madre que nos comunicó el sabor de la escritura, los viajes y el encuentro con los demás. Desde su pluma, inspiró al artista y fue colaboradora de Georges Decaunes en la televisión cuando se la llama la ortf. Le mostramos todo nuestro afecto y le dedicamos este artículo en nombre del ejercicio de memoria