Les Etats-Unis au Sial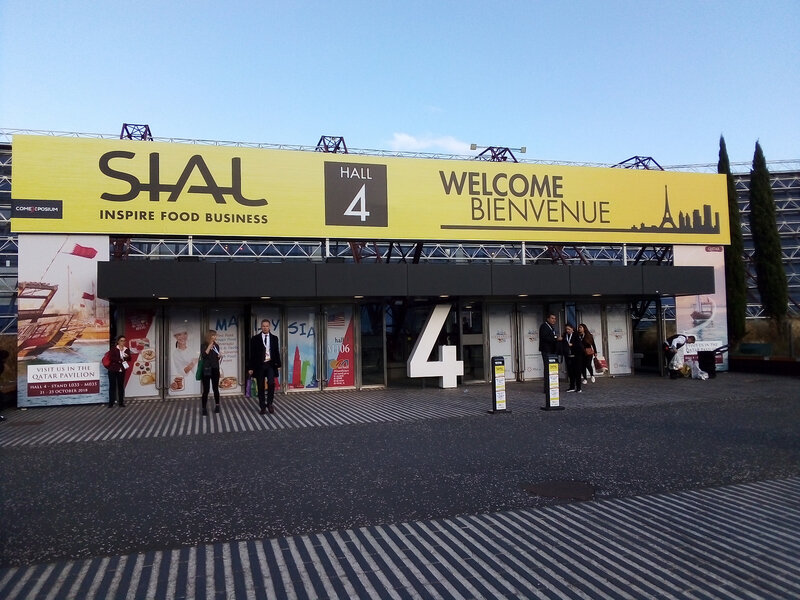 Tout ce qui compte comme fleuron des entreprises innovantes, dynamiques en provenance de chez l'oncle Sam sont présents au Sial potur présenter les meilleurs mets des states qui satisfont les plus délicats mets.
Ce n'est pas moins de 140 exposants qui ont présentés la qualité et l'innovation des produits alimentaires et offrant une grande variété de produits durables, régionaux et ethniques.
A contrario des burgers et autres fritures saturées de calories et de lipides, la tendance est plus a la recherche des produits organics, naturels ou qui rappelle Dame nature.
Au parc des expositions de Villepinte, les stands USA dans le Hall 4 proposaient nombres de produits. Notre coup de cœur hors Floride est allé pour NicholsFarms de Hanford de Californie avec ses pistaches
Notre visite s'est orienté principalement sur les stands en provenance de Floride.
Nous avons rencontrés Carter Pecan en provenance de Panama city Beach, exportateur d'excellente noix de pecan Cheney Brothers de Riviera Beach de Floride. Le stand de Natalie's Orchid Island de Fort Pierce proposait des jus de fruits limonades et thé glacés de qualité.
Nous avons appréciés les glaces Bubbies de Hawaï, légère compacte et douce, des excellents ice cream a partir d'ingrédients naturels. Le secret de recette est familial mais ses produits Mochi prononcés moh-chee sont des Best sellers du côté de Honolulu et des USA. Son succès tient à la qualité du produit et aux exigences diététiques actuelles.
À ce sujet, plus de 9500 entreprises sont répertoriés sur 50 états d'après la très sérieuse Organic Trade Association. Démontrant la volonté des entreprises américaines de promouvoir des produits premium pour tous. Bon appétit !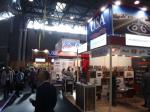 United States at Sial
All that counts as the flagship of innovative, dynamic companies from Uncle Sam are present at Sial to present the best dishes of the states that satisfy the most delicate dishes.
No less than 140 exhibitors showcased quality and innovation in food products and offer a wide variety of sustainable, regional and ethnic products.
In contrast to burgers and other frying saturated with calories and lipids, the trend is more in search of organic products, natural or reminiscent of Mother Nature.
At the Villepinte Exhibition Center, the US stands in Hall 4 offered numbers of products. Our crush off Florida went for NicholsFarms from Hanford California with his pistachios
Our visit focused mainly on stands from Florida.
We met Carter Pecan from Panama City Beach, an exporter of excellent Cheney Brothers pecan nuts from Riviera Beach Florida. Fort Pierce's Natalie's Orchid Island booth featured quality lemonade and iced tea juices.
We enjoyed Hawaii's Bubbies ice cream, a light, compact and sweet, excellent ice cream made from natural ingredients. The secret recipe is family but its Mochi pronounced moh-chee products are Best sellers on the side of Honolulu and USA. Its success is due to the quality of the product and the current dietary requirements.
In this regard, more than 9500 companies are listed in 50 states according to the very serious Organic Trade Association. Demonstrating the desire of US companies to promote premium products for all. Enjoy your meal !
Estados Unidos en Sial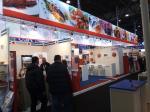 Todo lo que cuenta como el buque insignia de las compañías innovadoras y dinámicas del Tío Sam está presente en Sial para presentar los mejores platos de los estados que satisfacen los platos más delicados.
No menos de 140 expositores mostraron calidad e innovación en productos alimenticios y ofrecen una amplia variedad de productos sostenibles, regionales y étnicos.
En contraste con las hamburguesas y otras frituras saturadas de calorías y lípidos, la tendencia es más en la búsqueda de productos orgánicos, naturales o que recuerdan a la madre naturaleza.
En el Centro de Exposiciones de Villepinte, los puestos de los Estados Unidos en el pabellón 4 ofrecieron varios productos. Nuestro enamoramiento de Florida fue para NicholsFarms de Hanford California con sus pistachos
Nuestra visita se centró principalmente en stands de Florida.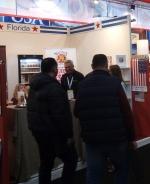 Conocimos a Carter Pecan de Panama City Beach, un exportador de excelentes nueces pacanas de Cheney Brothers de Riviera Beach Florida. El stand de Natalie Orchid Island en Fort Pierce contó con una calidad de limonada y jugos de té helado.
Disfrutamos del helado Bubbies de Hawai, un ligero, compacto y dulce, excelente helado hecho con ingredientes naturales. La receta secreta es familiar, pero sus productos moh-chee pronunciados en Mochi son los más vendidos del lado de Honolulu y EE. UU. Su éxito se debe a la calidad del producto y los requisitos dietéticos actuales.
En este sentido, más de 9500 compañías están listadas en 50 estados según la muy seria Asociación de Comercio Orgánico. Demostrar el deseo de las empresas estadounidenses de promover productos premium para todos. Buen provecho !